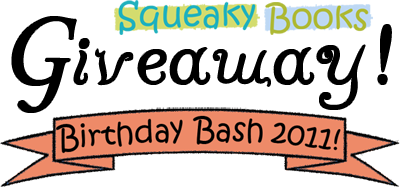 I'm hosting a contest as part of

Enna Isilee's Birthday Bash 2011

Presented by

Squeaky Books!
From August 22nd until September 22nd Enna Isilee at Squeaky Books is having a HUGE bash to celebrate her birthday! (Wooo Happy Birthday!!*) There's a giveaway nearly EVERY DAY, tons of author interviews, and guest posts from a bunch different YA book bloggers. And I get to host a contest! I get to give away a copy of Dust & Decay by Jonathan Maberry! Entering is simple, just fill out the form (with optional bonus entries). You have until September 21st at 11:59 MST to enter. All winners will be announced on Enna Isilee's birthday (September 22nd) on Enna Isilee's blog (
Squeaky Books
). And today, Enna Isilee interviewed Jonathan at Squeaky Books. You should totally go check it out.
Want to know more about Dust & Decay? Click here!
Without further ado, enter to win! Click below. Contest is US only!
**Also, Rot & Ruin (the first in the series) is my favorite zombie book! So... you should really check out this series. I'm going to be reading Dust & Decay soon as well. Have heard some really good things!